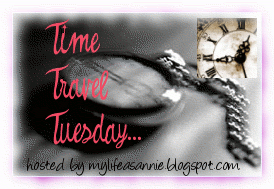 Welcome back to Time Travel Tuesday!
Sorry I've been so "absent" lately.
Hopefully my blogging will resume soon!
Today we are traveling back to Thanksgiving Day!
It shouldn't be a difficult trip given it was only a few days ago.
What was your favorite part of the day?
What was the best thing you ate for dinner?
What are you most thankful for this year?
(If mr. linky doesn't come up... for some reason it doesn't on this computer? Leave a comment and let us know you are participating so we can come read about your day.)
Pettigrew Thanksgiving 2007

Our day started pretty early. We had plans to drive to Tulsa, OK which is about a 2 hour drive. Matt's mother lives in Tulsa as does his aunt Jane Ellen. Matt's sister Jane Ann was driving up from Dallas, TX. Jane Ellen's hubby Ron spent the evening before smoking a big turkey lovingly referred to as "tom." I made green bean casserole, rolls, and spinach dip to take along.
We all loaded up by eleven, dinner was planned for two.
It was a delicious dinner. I always enjoy Paula's dressing and although she did email the recipe, it somehow wasn't the same here at home.
Tom was nice and tasty too, I love turkey.
We had all the usual casseroles and lots of yummy desserts.
I think the best thing I ate was the spinach dip, I love that stuff. Second would be dressing.
We stayed long enough to a. digest our food, and b. for me to color and cut Jane Ann's hair.
Jane Ann's transformation was a miracle to behold. She looked great!
I (being un-trained) never know what the hair will end up looking like, especially when asked to do a cerain style, but it looked really good. I colored it a light brown with highlights and then cut layers around her face and trimmed it all over.
After her hair was finished we headed home.
Emelia stayed in Tulsa until Saturday.
We came home and ate dinner late before heading to bed.
It was a good day.
I am most thankful this year for the blood of Christ, that covers me with forgiveness... healing... and love. I am also thankful for my wonderful family and friends. I love you all.