Nan over at Life is Like a Lunchbox is at it again with yummy bloggy giveaways! Last time is was adorable aprons. This time is yummy delicious soap. I love soap. I have a thing about smelling soap. You can ask Julie... or maybe don't ask Julie (lol)... Anyway, click on the button below to sign up for Summer Soap Celebration!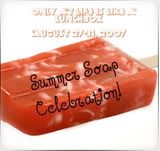 I mentioned Haley's avon contest the other day! There's still time to sign up here.


Five minutes for mom is giving this away! You can sign up here!