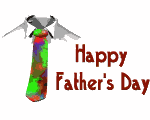 Well, Matt & I finally made it out to celebrate our 18th anniversary. We went to Steak & Ale... I had the chicken gratella. Here's what it looked like...

It was pretty good, but I brought 3/4 of it home. Since I have been doing the diet devotionals I have really had such a knowledge of when I am full. I just stopped and pushed my plate away. Matt offered to polish it off for me (after his 12 oz steak :o) but I thought it would be good to have it for dinner. It was mashed potatoes, grilled chicken with artichoke hearts, sun dried tomatoes and blue cheese, all drizzled with balsamic vinegar. Sounds odd, but it was pretty tasty. I raked most of the blue cheese away. Too much flavor. We had a nice meal together and then did some shopping... we got a new weed eater & saw Izzy's ST at lowes.

After Izzy's blog redo I was inspired to rework my friend Julie's blog... so I made her a new header and changed her background. click here to view it.

Here's day eight...

"This is the bread which came down from heaven--not as your fathers ate the manna, and are dead. He who eats this bread will live forever." John 6:58

Face it: Dieting wouldn't be so hard if food didn't taste so good! Like anything good, we want to get as much of it as we can. It's easy to place a high value on the food we eat. But there is such a thing as too much of a good thing. God has given us many freedoms, but one we should not abuse is the freedom to consume as much food as we want. No one can limit what we eat except ourselves. We need to realize that our daily bread supplies what we need, not what we want. Excessive eating is selfishness, and selfishness is sin. When we feel the urge to overeat, let us turn to God and nourish ourselves on the true bread that comes from Him - His word.

Today's thought: God's bread of life is nonfattening!