Thank you so much for all your laughter my dear bloggy friends at my unfortunate experiences on Tuesday, it makes it all so much easier to bear knowing that my mistakes and misfortune cause you so much pleasure! No, seriously though... thanks for all the sweet comments! Life is pretty much back to some kind of normalcy, whatever that is.


The new fridge is installed, it has food in it, the food is cold... it has even made a lot of ice! I tried out the filtered water in the door at 3 a.m. last night and I would give it a thumbs up! And regarding the old friend, two things I forgot to mention about that... 1) I did get dressed to go shop for a fridge and he was still with my dad visiting outside so I at least was able to show him I did know how to 'clean up,' and 2) the first thing out of my mouth when I stomped in the front room looking like I described was "don't look at me" Isn't that hilarious? I can't even believe I said that or that I am admitting it... but, it just came out of my mouth before my brain caught up. Oh well. I did take that lesson to heart and got dressed early yesterday morning so that I wouldn't be embarrassed when the refrigerator delivery people came. Good thing too! They came earlier than I expected.
Next subject...
Sandra's slow cooker Thursday
! I love my crock pot. I had crock pot meatloaf on my MPM for Tuesday night, but with the Memorial day cookouts it got bumped to last night. It was really good! I left it cooking while we went to church and everyone came home and ate it up! Even Amanda who hates meatloaf! (Bailey didn't eat it because, well, he doesn't eat meat...)
So, I already linked to it on my MPM... but, it was good enough to share it here. By the way, I also used the crock pot liner and those things sure make clean up easy! I used the foil over that because I thought it might be necessary for browning or something.






2 1/2 pounds ground beef


1/4 cup ketchup


1 tablespoon brown sugar


1 egg


1 cup italian breadcrumbs or crushed crackers


1 tablespoon Worcestershire sauce


1 small onion (diced)


1/4 cup water





Mix all ingredients in a large bowl. Form into a meatloaf shape that will fit into your crock pot. Cut a strip of foil and place under the meatloaf in crock pot. Cut it long enough to cover the bottom and sides of meatloaf. Place meat loaf in crock pot and top with an additional 2 tablespoons ketchup & chili sauce. Cover and cook on low for approximately 8 hours or high for four hours.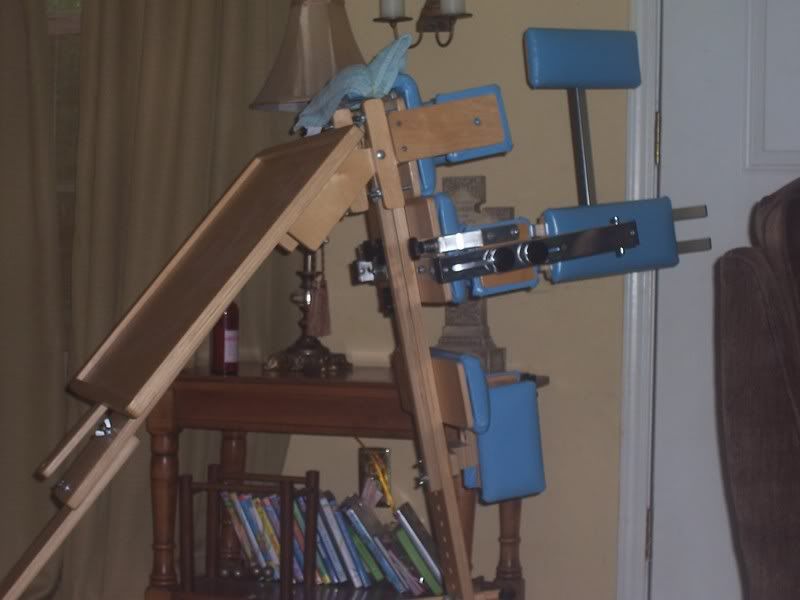 We've been putting Izzy in the stander that we borrowed from school a lot recently. Since we are home more with no school this is possible. This includes
wearing the foot splints too, which I have to say she isn't thrilled about either. I do see her legs getting stronger, that is very encouraging. This is a pic of the stander. Our den is basically full of her equipment. It is tucked away everywhere and whatever we are 'using' at the time is just kinda in the middle of it all! I am getting used to it and it is just how things will be until we get her running around. I have said it before but feel it necessary to say again, "I believ
e Izzy will be restored completely through the healing blood of Jesus Christ, I believe that she has been healed by the stripes of Jesus, we are simply waiting and expecting the manifestation of this healing." If you don't agree with this, don't pray for her. I also don't need to be felt sorry for or talked out of my beliefs. These beliefs are based on God's word alone and have taken root deep inside me now, they will not be moved.

We went to church last night (cornerstone). There was a guest speaker. I am pretty aware of things so when they were having singing I noticed a gray haired gentleman standing by the pastor of the church ... I told Matt, "that guy has spunk, I hope he is the guest speaker." I was right! He did have spunk. His message was "shake it off and step up." He told a story about a donkey in a well that was being buried because they couldn't get him out and each shovel of dirt thrown down he shook it off and used it to step up until he was out of that well. It was a great motivational lesson and lots of good scriptures went along with it.

New topic... Amanda. She is leaving for montreal in less than two weeks and her passport has yet to come. We applied at the beginning of March and were told there was no problem and now here we are with a problem. I plan to spend the day on the phone trying to have it expedited. That and deciding how many american $ to change into canadian $'s have been the topics the last few days. We've been told she will need canadian money for niagra falls too. She is going with our church to visit our old preacher who has a church in montreal now. She is SOOOOO... excited.

Another thing I didn't mention is that Saturday on my way home from that brunch we hosted and while my mil was here, I got a letter from the health care authority stating that as of 5-31 Izzy no longer has tefra which is the program I had to jump through 8 months of hoops to get her approved for. Anyway, I couldn't call until Tuesday, because Monday was a state holiday but I finally found out that they deleted her from the system because I called when they mispelled her name "iszbell" instead of "isabelle" and that correction deleted her somehow. I was on the phone with them when I discovered the dead fridge and while I poured the gunk on Izzy. So, it was a fun morning all in all. I promise that is the last I'm going to say about that. ok?


In Light of the Truth is hosting a weekly memory verse. I signed up! This week's scripture is:
Hebrews 10:24-25
And let us consider how we may spur one another on toward love and good deeds. Let us not give up meeting together, as some are in the habit of doing, but let us encourage one another--and all the more as you see the Day approaching.
Thank you
Tori
for the cd you mailed! It is such beautiful music, I can hear it playing on the kitchen cd player! (it is her husband playing) You are so sweet! I love good mail!

TTT next week I was thinking about memories of our fathers since father's day is around the corner. What do you think?