"
Ponder the path of thy feet, and let all thy ways be established
."
Proverbs 4:26
The end of the old year and the beginning of a new one is a great time to take inventory of what has happened in your life and plan for what's ahead. Some people don't think it's good to look back and they certainly don't think it is good to make New Year's resolutions. But this passage of scripture tells us to "
ponder the path of thy feet
."
Ponder means "to weigh mentally." You can't weigh something unless you have something to weigh it against. If you don't have any goals, there's no way to evaluate whether or not you're making progress. We all need something to shoot at. Otherwise, we'll shoot at nothing and hit everytime.
There are dangers associated with setting goals and making resolutions. If we stretch ourselves too far we are destined to fail. This just adds to our sense of guilt and frustration. The Bible advocates vision and goal setting, but we need to exercise wisdom. We shouldn't set goals arbitrarily, independent of God. Establishing goals contrary to His will just absorbs all our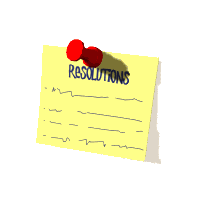 time and keeps us from Him.
It's beneficial to look back and remember the good and learn from the bad. In order to plow a straight row, we must fix our eyes on a point far out in front of us. Use this time to see if your life is going in the direction the Lord wants it to. If it's not, then there needs to be some changes. It's foolish to keep doing the same things expecting different results. Ponder the path of your feet today, and take appropriate steps!
Andrew Wommack (awmi.net)

Here are some of the goals I've been contemplating all week...
1. Spend more time in God's word. His word is food for my soul. I need to put my spiritual nutrition far above anything else.
2. Get in shape... either join the gym, walk while Izzy is in school, eat healthier, less coke...
3. Take more pictures! I get so busy I forget... but they really do record life!
4. Pray more. Prayer is one of my first and favorite things to do, but I think more is always better in this area!
5. Rest in God's promises and let go of trying to control things.
6. Make my bed first thing every morning.
7. Drink more water (blech)!
I could go on and on about how I want to be a better mother, wife, friend, and daughter but you get the idea (:
Sheryl
is the host of faith lift fridays each Friday. You can visit her to share something that has lifted you up or just read the posts of others!